What makes your customers tick? What keeps them coming back to you time and time again? There isn't one answer that defines your entire competitive advantage. It could be a healthy mix of quality products and hands-on customer service, but one thing is for sure; your customers want to see deals. Keeping your customers is the best way to grow your business, and offering deals is one of the Top 10 best strategies to continuously build customer retention. Your customer management strategy is the key indicator of where your business is heading. With a little strategy and a pinch of planning, you can use deals to:
- Attract new customers
- Build customer retention
- Grow Revenue
- Test new products
- Monitor buying behaviors
‍
Here's How
1. Attracting new customers
It's no secret that people prefer to buy things when they're on sale. One of the most effective tactics for capitalizing on a sale or promotion is the use of limited time. When you offer an attractive discount for a limited time, you create a sense of urgency. If there's ever a time to act, it's now. Limited time deals allow you to have a direct influence on your customer's purchasing behavior, which gives you a degree of control over your standing inventory.
Not only that, but offering deals allows your customers to get their feet through your doors. You know the phrase "I came for the < blank >, but I stayed for the < blank >"? You'll have customers crossing into your virtual storefronts for the deals, but they'll be staying for your robust catalogue of line items. Offering deals works as a tremendous hook to get new and existing customers interested in your suite of products.
2. Building Customer Retention
It's all about building up your reputation. We're neck deep in the internet-of-things (IoT), meaning consumers have access to limitless prices, comparisons, and promotions all from the palm of their hand. f they want to do their research, they'll have no problems doing so. So in the golden era of consumer intelligence, how do you build a consistent following that won't sway when a lower number comes along?
You don't need to slash prices across the board to entice your user-base. A well-timed promotion will go a long way for building customer loyalty. Although it varies from industry to industry, the cost of acquiring a new customer can exceed ten times the cost of keeping an existing customer. Implementing a customer loyalty program is a great way to incentivize consumer purchasing, especially on a non-monetary front. Just take a look at Patagonia's Common Threads Initiative, which provided consumers with a reason beyond the price tag to stay loyal to their brand. Operators in the restaurant industry are in a particularly advantageous spot to hop on this type of strategy. With massive movements surrounding food waste, organic/locally sourced products, and "green" initiatives, businesses in the restaurant industry have a wide spectrum of possibilities when it comes to building the right customer loyalty program for them. Remember, it's possible for "deals" and "price" to exist separately, you just need the right strategy.
3. Growing Revenue
Revenue growth is the single most important metric you'll track in your business. It doesn't matter if all of your numbers are going up, if revenue is trending downward you have a problem on your hands. As we've already discovered, deals bring more people into your online storefront. Not only that, but deals are also proven to increase the average transaction size and increase the frequency of transactions per customer. Consumers like when purchasing decisions are made easy. When you simplify the process, whether it be ordering or managing inventory, customers will get more engaged with your service. Accordingly, making your deals and promotions easily accessible will be integral to bolstering month-over-month and year-over-year revenue growth.
For example ABCO, a hospitality wholesale supplier, realized a 15% increase in line items ordered through BlueCart, an online/mobile ordering and inventory app. Customers like simplicity. When you implement a system that makes catalogue navigation seamless, you're simultaneously making it easier for customers to walk up and down each isle in your virtual storefront. Driving revenue is only possible with a strategy in place, and utilizing deals as a hook to bring new customers through your funnel is the best way to increase your sales flow.
As if that wasn't enough, deals create unique opportunities for cross-selling. Using bundling to package multiple products at a discount price is proven to boost revenue and increase size of customer transactions. According to Marketing Metrics, "The probability of selling to a new prospect is 5%-20%. The probability of selling to an existing customer is 60-70%." Cross-selling allows you to target existing customers and optimize the value of each sale through bundling a discounted product.
4. Testing New Products
Deals and promotions create perfect environments for pilot testing. They provide you with a limited window of opportunity to gather data and gauge the response of your customers to test if investing in further development of a product/service would be worthwhile. Companies often make the all-too-common mistake of diving into a new feature head-first without doing their due diligence.
Testing new products in a limited sales window allows your customers to determine its value rather than you determining it for them, which allows for more favorable buyer behavior when the deal ends.
5. Monitoring Buying Behaviors
Offering deals incentivizes your customers to walk through your buying process step by step. You can alternate through various deal strategies to find out what your customers value the most. In fact, 83% of respondents in a survey conducted by Invespcro said they were "somewhat likely" or "very likely" to click on an ad offering a discount or promotion.
Deals give you key insight into what your customers respond to. What this does is pave the way for more targeted and customized sales flow campaigns in the future, and in short, you'll be able to give your customers exactly what they want.
Finding a way to couple brand loyalty with revenue growth is an essential benchmark for any business. Building out a clean and simple strategy to promote your deals will be nothing short of imperative to leveling up your business.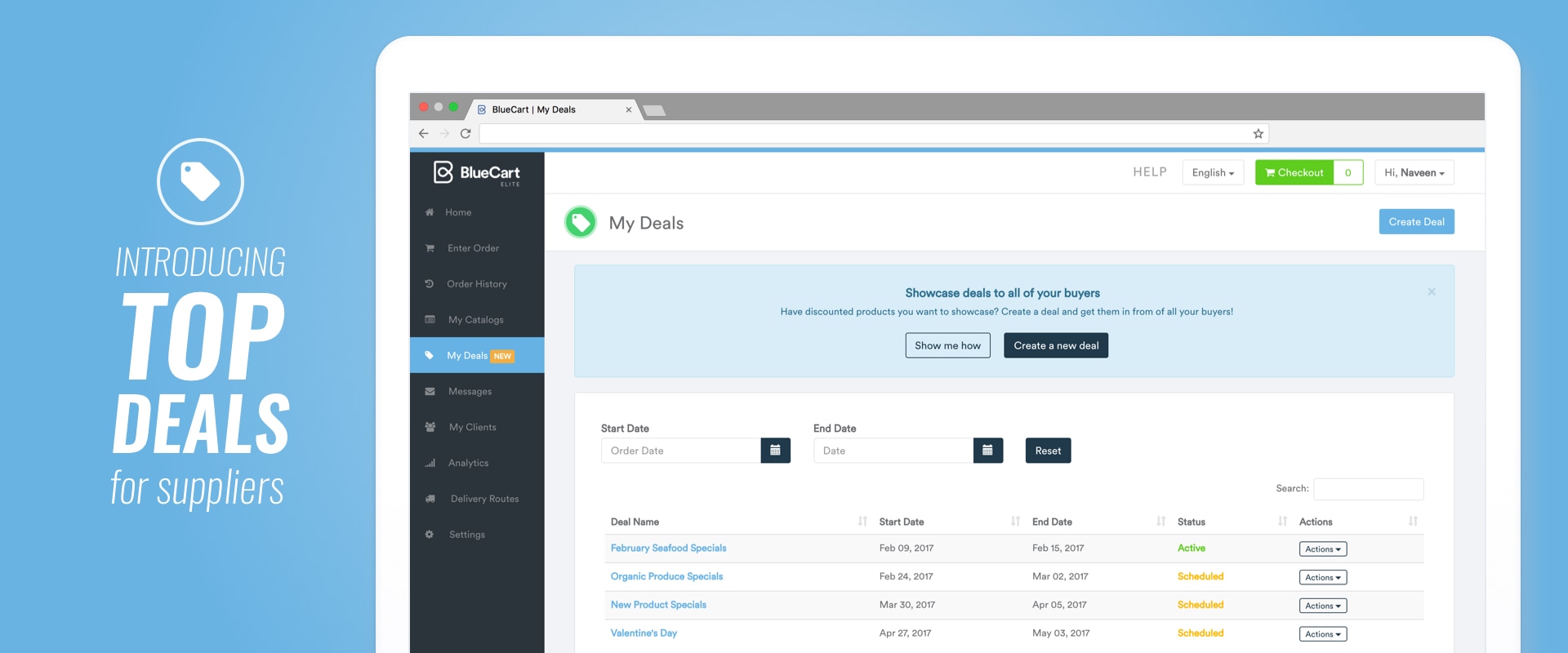 How to Offer Easy Deals
BlueCart's vendor app, which offers a suite of services to vendors and sales reps all from the palm of their hand, just launched "Top Deals." As a Supplier/Distributor using BlueCart, you can now send Weekly Specials aka Top Deals to all your Clients with a few clicks. BlueCart is inviting vendors to join a community of over 20,000 buyers in order to target a deeper audience and increase their reach in the market. For more information about Top Deals, check out how it works right here!
Interested in learning how BlueCart can help suppliers grow their business? Feel free to check out our website! If you're ready to join BlueCart's big family today, please head right this way. We can't wait to talk to you!
Published on
February 17, 2017